Questa sera andrà in onda il thriller investigativo State of Play: trama, cast e curiosità sul film con protagonista un grande Russell Crowe.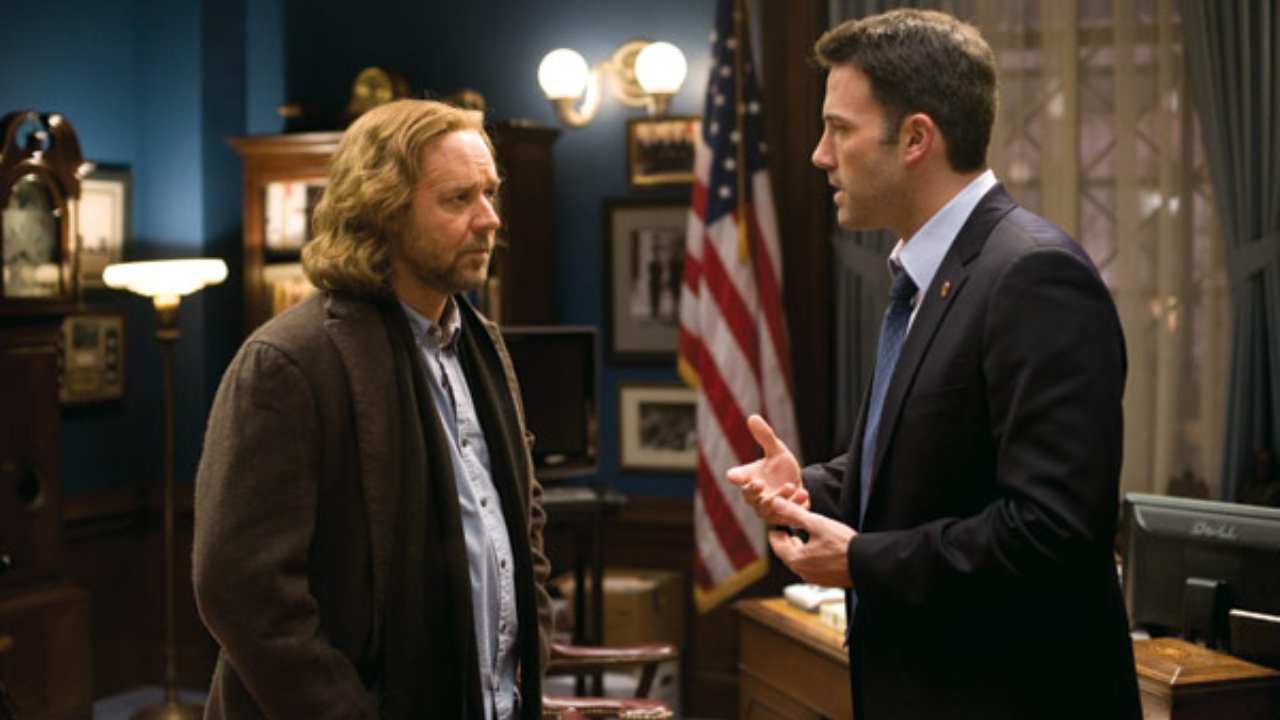 L'offerta di questa sera di Iris è un film uscito nel 2009 con protagonista l'attore australiano Russell Crowe. Divenuto famoso come Massimo Decimo Meridio nel film kolossal di Ridley Scott, Il Gladiatore, Russell ha dimostrato al mondo intero di essere un attore capace di fare film d'azione, ma anche di riuscire ad interpretare una parte drammatica con grande intensità. In molti, nonostante l'Oscar consegnatogli proprio per quel ruolo, avevano sottovalutato le sue capacità interpretative.
Già l'anno successivo, con il ruolo in A Beautiful Mind, l'attore ha confermato le sue abilità interpretative, ricevendo numerosi premi dalla critica come miglior attore protagonista e sfiorando il secondo Oscar consecutivo. State of Play è un thriller investigativo in cui Russell recita nei panni di Cal McAffey, un giornalista vecchio stampo che si trova ad investigare sulla morte di una ragazza che aveva una relazione con un suo vecchio amico.
Leggi anche ->L'attimo fuggente, morto l'attore Norman Lloyd: la sua incredibile carriera
State of Play: trama e cast del film con Russell Crowe
Tratto dall'omonima mini serie britannica prodotta dalla BBC, State of Play è stato un film che non ha riscosso un successo di critica né di pubblico. Un vero peccato per una pellicola che è strutturata alla grande e si mantiene avvincente dall'inizio alla fine, sia per le scelte registiche, sia per la presenza di un cast d'eccezione che oltre al protagonista vede comprimari del calibro di Ben Affleck, Rachel McAdams e Helen Mirrel.
Leggi anche ->Piero Angela, una carriera straordinaria: il riconoscimento del Quirinale
Il canovaccio è uno di quelli tipici della storia di Hollywood: un giornalista che fiuta una pista scopre di doversi confrontare con uno scandalo che coinvolge la politica. Da un lato, dunque, abbiamo un professionista che non si ferma alle apparenze, dall'altro abbiamo la rappresentazione del potere politico nella sua forma più crudele e cinica. Il protagonista si troverà schiacciato, poiché la sua etica professionale gli impone di fare emergere cosa è successo, ma sa che così facendo metterebbe nei guai il suo amico d'infanzia.